Storyline:
New York 2075. The evil Queen Dark rules the world and by casting a spell upon girls she remains alive forever.
Prince Argaï from 1250 a.d. is furious when he discovers his fiancee Angel has been enchanted; a lightning flash
sends him to 2075 where he seeks refuge with private detective Oscar Lightbulb, his assistant Barnaby
and their secretary Miss Moon. It is discovered that a book of prophecies exists that details every ingredient they need
for the potion to rescue Angel. They copy this book, but it gets stolen by Queen Dark who then knows their every next move.
Will they succeed in collecting the ingredients, rescuing Angel and the destruction of Queen Dark?
> Short History of the Project
> Creation of the Series
> Creation of the Subtitles
> Creation of the NFO Viewers
> Creation of the Media Player
> Creation of the Argaï Credits Track Remake (2011 Edit)
"Short History of the Project"
This is one of the biggest projects I've had in my life (up till now). I've seen this series on tv when I was a kid, back in 2001.
9 years later the story and characters were still partly in my head, but I couldn't find it anymore and wanted to see it again.
This project started almost immediately at the time I finally found the name of the series (Argaï) again after 10 years!
This was in September 2010. Sadly there was nothing available online, so just like many other [Dutch] people I started hunting.
On a general site about the series many people gathered in the hope to find it. After a few people appeared with Dutch videotape-recordings,
I was the one that made a package and shared them with anyone who wanted it. Later I got my hands on DVD's to make rips
and I edited the audio from the videotape-recordings so I could make the episodes complete again, as long as I had the materials.
Somehow I became the
Leader/Founder
of this Argaï Project.
I was the one who repaired and shared the episodes online. In the beginning this was Dutch only,
but as I got more requests from other languages, I also started to focus on any other language there was.
I worked and still work all alone on this project! Every episode I produce is possible by people that provide me
with TV recordings or DVD's. I've started to create own subtitles and some other people help me out with different languages.
For all tasks I've started for this project, check out the subprojects below.
At the bottom I've gathered the projects in a summaryview, where you can find links to software or other projects on this forum!

As I do a lot with ICT in free time, I made myself quite some extra hobbies!
"Creation of the Series"
This part is about the things that had to be done to create the episodes you can download from my Argaï DownloadForum.
The global steps I had to do in most cases to fix episodes:
1) Get Movie Source
2) Get Audio Source
3) Create Final Audio
4) Create Final Episode
1) Get Movie Source:
This took many time, as I only got tv-recordings. After a while we discovered that the Swedish version of the series
was released on DVD. I used the software
Handbrake
to make rips of each episode (in .M4V format).
I used these Swedish rips as movie material for other languages.
2) Get Audio Source:
Receiving Tv recordings or audio rips of tv recordings, I managed to gather complete episode audio by mixing different
versions if necessary. Sometimes I could use DVD audio, but not many DVD's were released, so had to work with tv recordings people made.
3) Create Final Audio:
Using the incomplete Tv-Recordings I could mix some parts of different versions. To edit the audio, I've used
Audio Edit Magic
.
I always work with MP3. If the audio is another format, I convert it using Total Video Converter (yes it also converts audio).
I use Audio Edit Magic mainly to cut damages, copy/paste audio & delete sections. Adding the original HQ audio of Intro and the DVD version audio
of credits, I could finish the audio to the complete 25:00 minutes.
4) Create Final Episode:
When I have the DVD material and the complete audio material, all I have to do is mux them together in a new episode.
I've used the software 'Yamb' to do this. It's able to extract audio from movie files and it can mix many audio files in a new movie.
I delete the Swedish audio from the original rip and add the new created audio language to the project. I can export it and test
the sync. I re-edit the audio and keep muxing till the sync is okay!
"Creation of the Subtitles"
Here I'll explain what to do if I want to make subtitles for episodes.
Before I started this project I already did edit existing downloaded subtitles, but those were already created. If you don't have subtitles
and have to build from scratch, it's hard to work in Notepad. I've searched online and finally found SubTitle Edit (3.0) Portable,
which I use to create subtitles from scratch.
The basic steps:
1) Import a Movie to the project
2) Add a line to the project and enter a sentence
3) Play from just before line and deterine the duration
4) Change the duration/start-/endposition of that line
5) Recheck till satisfied
Do this for each line in the movie you want to add, this takes me a couple of hours per episode of 25:00 of Argaï.
As I don't have much time for it, I quit with this subtitling project without any external help.
"Creation of the NFO Viewers"
How I created those apps to view NFO files.
I wanted to have a custom NFOViewer to show my NFO files I add with subtitle releases. I couldn't edit the ones I downloaded
elsewhere, so I decided to create them myself. C# seemed the best bet to create those apps, so I've started diving in the
world of C# programming. In just a few weeks I already got most of my application. I'm using Visual (C#) Studio 2010 to create the code
and the final application. The pictures in the NFO Viewer are made from screenshots with a bit of simple work in Paint.
I created an online article that explains what code I used to create all you see in my app.
"Creation of the Media Player"
How I created the Media Player to watch own created episodes.
I've stopped working on this. It did however give me some experience with creating mediaplayers and using/programming the different elements.
The Argaï MediaPlayer is a combination of more projects. It has many tasks to do, but I won't tell all of them.
The basic idea is that it starts with a Splash Screen and then opens the Media Player, which will start the movie delivered with it.
This means it's NO Standalone Player to just drop any movie you want on it.
I created this to protect the created episodes before their official release, but later I gave up on that.
I never released it and I won't do so in the future. Below is a sample of my programming work's result: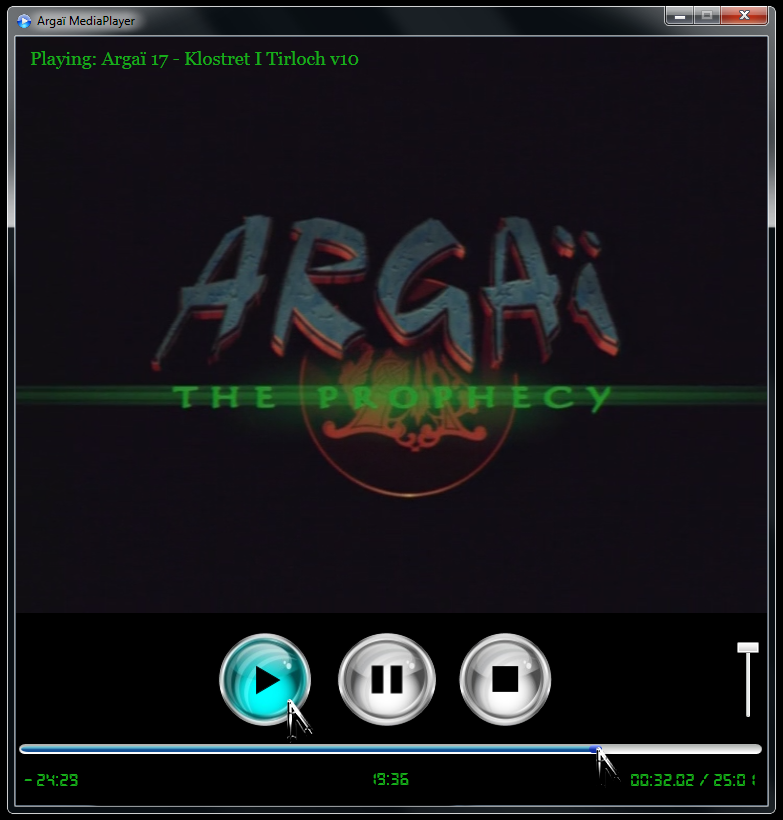 "Creation of the Argaï Credits Track Remake (2011 Edit)"
What I did to create my own version of the Argaï Credits Track.
As I'm working on many custom Argaï stuff, I thought it would be cool to create my own version of a track.
As I'm a Trance producer already (hobby) I know how to make simple music. Using FL Studio 9 XXL Producer Edition
I was able to create the credits track as you can hear on my forum, at the created
music collection page
.
To summarise:
Default Argaï Project Work
- Rip DVD's for movie material - For this I've used
HandBrake
;
- Edit audio to complete undamaged episode audio (if possible) - For this I've used
Audio Edit Magic
;
- Mux the audio with the DVDRIP - For this I've used
Yamb
.
Extra Tasks I came up with
- Upload and manage all the created files;
- Create a Forum (Thread) to share the links and info and update when necessary;
- Create Subtitles for the episodes - For this I've used
SubTitle Edit 3.0 Portable
;
- Create NFOs to put with releases (Subtitles) - For this I've used
NFO Builder 2000
and
NotePad
;
- Create
Portable NFO Viewer Application
(26 Designs);
- Create images for NFO Viewer Designs, using
Paint
and
Paint.Net
;
- Create MediaPlayer;
- Create LinkChecker for online storage availability checks*;
- Create LinkList with all my up-to-date Links for online or own LinkChecker.
- Create 'Database' App which contains all my created/translated summaries for all episodes + it can generate my YouTube Movies Descriptions!
- Create a
remake
of the original end credits music theme, since I'm producing music myself as well - For this I've used
FL Studio 9 XXL Producer Edition
;
- Create a Trailer, as there wasn't any official trailer made! - For this I'm using
Sony Vegas 12 Pro
.
* Here you can see the Latest version of this application: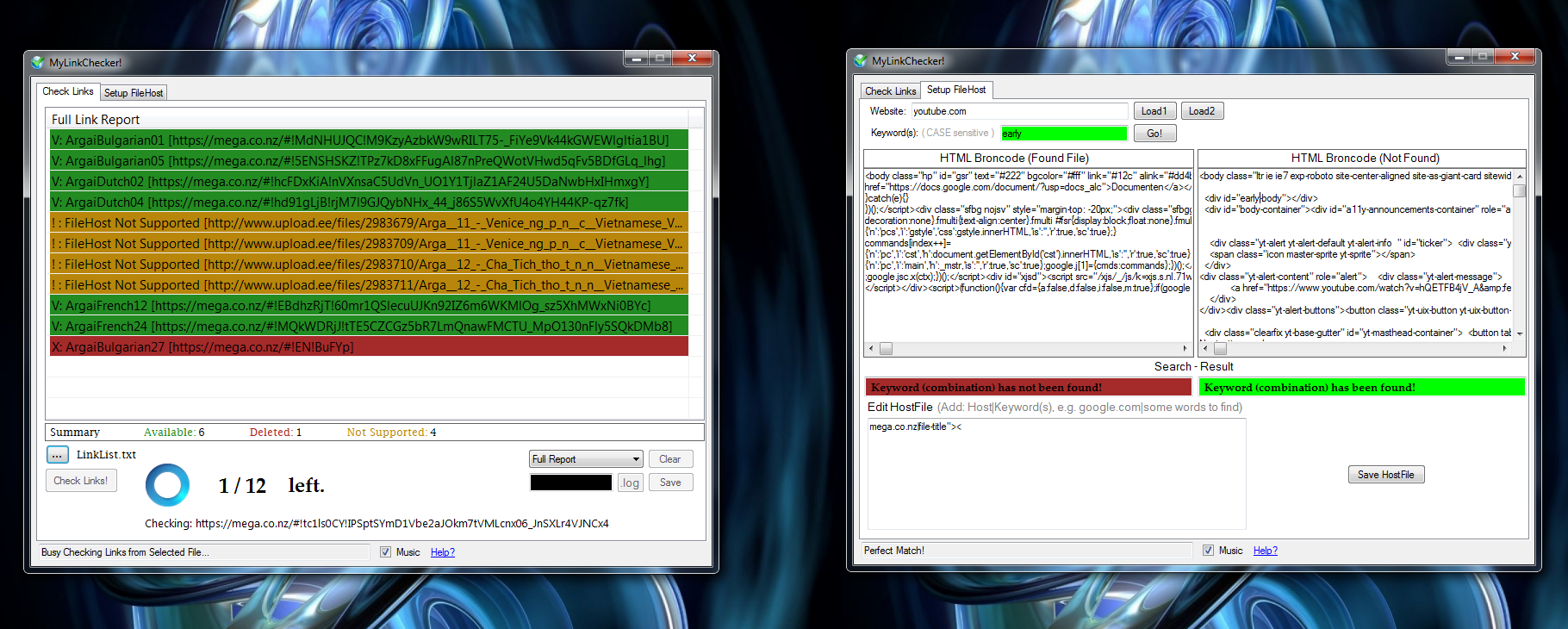 For any project Links, Progress, Info etc, Go to:
>
Argaï Project
(My DownloadTopic)
>
Argaï Episodes & Subtitles OverView
(Availability & Per Episode Info)
>
Argaï Wiki
(by DARkTYranno)